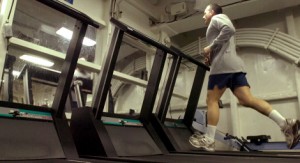 Scientists have created a sensor which displays a real time analysis of your body chemistry on your smartphone. The idea is, by monitoring the changes in your body, you will be able to take preventive measures. Like drinking water when you are dehydrated or taking some medication. So, you've got an early warning system.
The sensor which can be incorporated into wristbands or headbands does the monitoring by analyzing your sweat.
The sensor is being developed by the University of California, Berkeley scientists.
go deeper:
Wearable sweat sensor paves way for real-time analysis of body chemistry Nature
Image Credit: U.S. Navy photo by Mass Communication Specialist 2nd Class Aaron Burden / Public domain