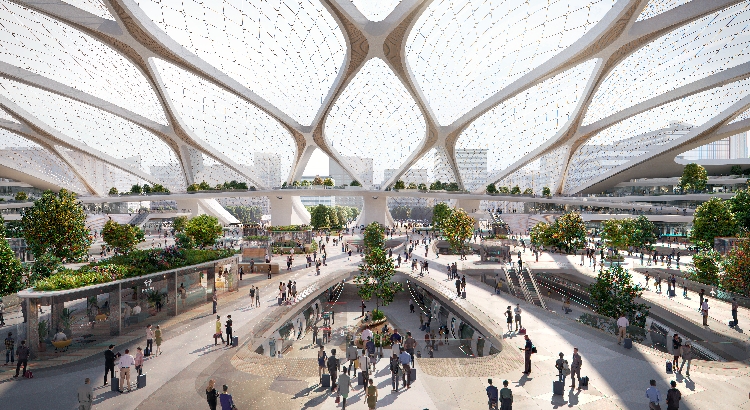 Finally Hyperloop arrives in continental Europe. As a vision at least. The Netherlands-based technology company Hard Hyperloop proposes a hyperloop link between Amsterdam and Frankfurt which would shorten the 450 kilometer journey to a whopping 50 minutes, from its current 4 hours. This is including the time for serving the stations of 7 towns along the route.
Hyperloop
Long championed by Tesla's (and SpaceX's) eccentric boss Elon Musk, a hyperloop is basically trains traveling in sealed low-pressure tubes at speeds reaching to 1200 km/h. There are various designs from a couple of companies all aiming to let the trains travel free of air resistance or friction conveying people or objects at high speed.
This video nicely explains the basics of the Hyperloop train:
One common thing with all hyperloop initiatives is that they are all in prototyping phase (mostly in USA's deserts) and none yet operational.
Hyperloop Implementation Program (HIP)
Hardt Hyperloop presented the kick-off study of the Hyperloop Implementation Program (HIP) at an event titled HyperSummit that the company organized in Utrecht, Netherlands.
During this kick-off study, the Delft-based hyperloop company teamed up with other organizations to study implementation issues relating to the Amsterdam-Frankfurt route, as a part of its Europe-wide hyperloop network. Stefan Marges,HIP Project Manager: 'We continually ask ourselves what impact the implementation of the hyperloop will have on our community, social life and economy. The research reveals among other things that an Amsterdam-Frankfurt route is 450 kilometres long and that the journey, with seven intermediate stations, takes around 50 minutes. This stands in sharp contrast to the four hours it would take using regular transport. This route alone could serve more than 4.3 million residents and the hyperloop could carry more than 48 million passengers annually. The hyperloop would provide a sustainable alternative for the approximately two million airline passengers annually, which would save 83, 690 tonnes of CO2 emissions each year.'
On board for the further exploration of the vision, among others, is the Royal Schiphol Group ever eager to keep Amsterdam's Schiphol Airport as one of the main gateways of Europe.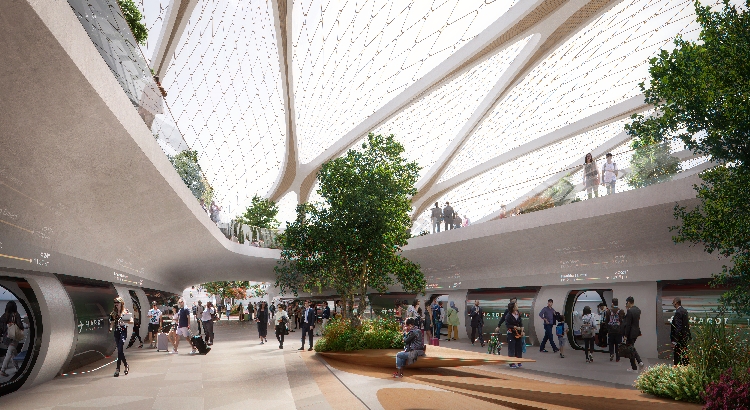 According to Hardt, the project will provide a network of cross-border cities, all connected in one network. The system aill works like a highway, with on- and off-ramps to go from city to city without transfers, offering a point-to-point, direct connection, in terms of total time elapsed for traveling, much faster than the air travel, currently the fastest way of travel.
Time will show whether this will materialize within the next decade or will turn into another "Mars One" Project – also from the Netherlands – which increasingly looks like a fantasy marketing project…
Image Credits:
Hyperloop stations as envisioned by Hard Hyperloop & UNStudio – Hardt B.V. press release.