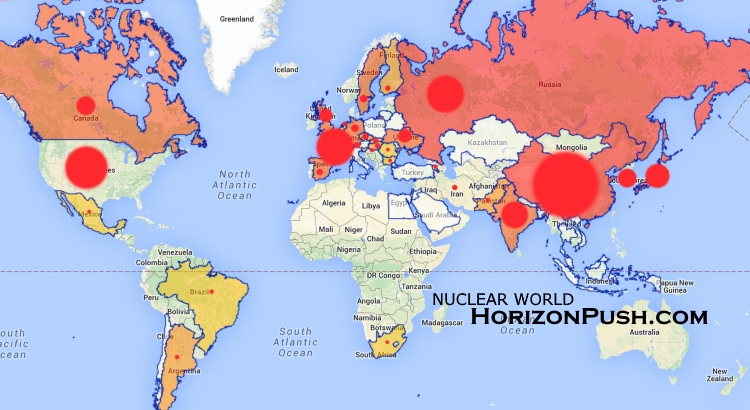 While the news about green and renewable energy take up the front pages on World's media, some other way of energy generation brewing much more intensely in the background: The Nuclear Energy. And unlike 1970's and 1980's, it does not get much attention anymore. One way or another, nuclear reactor disasters like Three Mile Island, Chernobyl and Fukushima all worked out as some sort of vaccinations on our reflexes, numbing our reactions.
439 is the number of operational nuclear reactors worldwide.
66 More nuclear reactions are under construction as we speak.
158 Additional nuclear reactors have been planned to be built.
330 further nuclear reactors have been proposed.
2030 is the year until which a big number of these nuclear reactors will be operational.
(The World map above takes into account also the planned and proposed reactors in addition to the operational ones)
How do we know about these numbers? Because World Nuclear Association says so. An international organization which says it represents the global nuclear industry. WNA keeps a database of all nuclear reactors worldwide and believe or not, they publish the information -maybe not everything but at least what we see- for everyone to read.
Here you go: Our World's nuclear reactors (January 2016 data):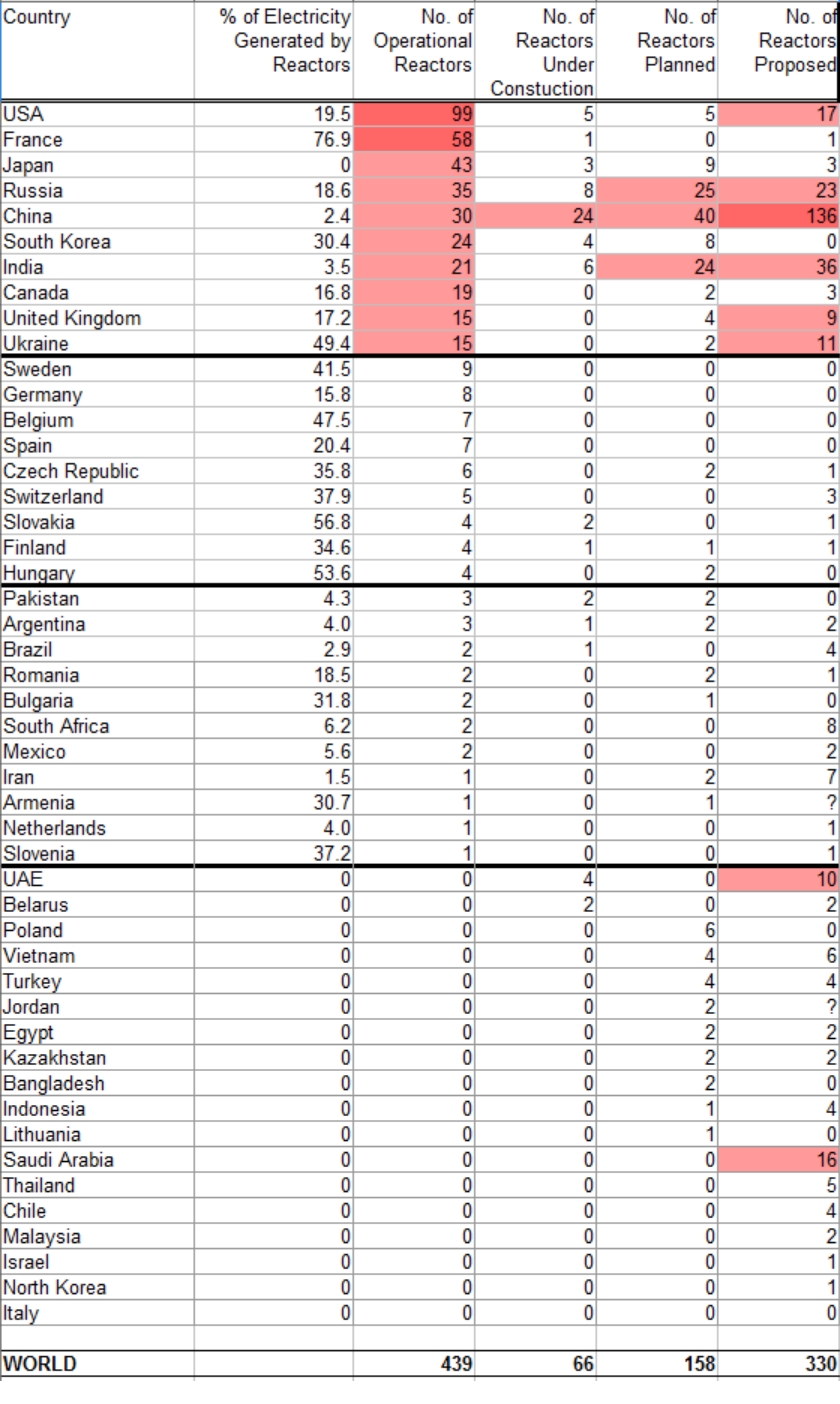 439 – 66 – 158 – 330 Is the list complete?

The list is basically about the nuclear reactors used for electricity generation. Hence almost certainly it is not a complete list of all the nuclear reactors in the World.
Does for example Israel with much publicized "secret" nuclear programme really have no nuclear reactor? Not even one? OK, maybe they did not build one for generating electricity but while running their nuclear programme, haven't they ever tried also having a reactor for research purposes? And take North Korea. They report no operational reactor and only 1 (one) "proposed to be built"? And how about all the universities, research centers of USA and Russia?
And then of course you have this trick: The Netherlands has only one nuclear reactor site, but it has double reactors. Which other countries has reactor sites with multiple reactors? They count as one right?
China – USA – Russia – India
Currently Europe is represented dominantly in the list for the operational reactors. But while Europe is cutting down on new investments, USA and Asian (or in the case of Russia "Eurosian") countries are betting big on nuclear energy. China only, intends to add 200 new reactors to its existing 30. That is more than a whopping 45% increase to the current World inventory of 439! Add to that 66 new reactors by India, 56 by Russia, 27 by US, 13 by Ukraine and all others adding 10 or 5 more or the first-timers who want to join the club, some with double digits.
When we know that some of these countries have bad track records for nuclear safety or developing countries with non-established safety standards; it is safe to say that some exciting future is ahead…
Also interesting to note that, Iran, with all that publicity it got with his nuclear programme has currently only one reactor, though they are working on adding 9 more…
And Europe
Europe has been one of the most fertile places in the World, along with USA and Japan where nuclear reactor business has proliferated. This is changing though. Compared to other places, Europe has far fewer new investments in nuclear reactors, with the exception of Ukraine, United Kingdom and Eurasian Russia.
France with 58 operational nuclear reactors is one country which stands out in Europe. And also in the World actually: with so many nuclear reactors, France is only second to USA in the World… France also happens to be one of the "green energy" exporters in Europe. Let's hope that some of its nuclear energy doesn't find its way to "green" cables…
Italy is notable in the list with no operational, planned or proposed nuclear reactors!
The map below gives the number of operational nuclear reactors in European countries (January 2016 data).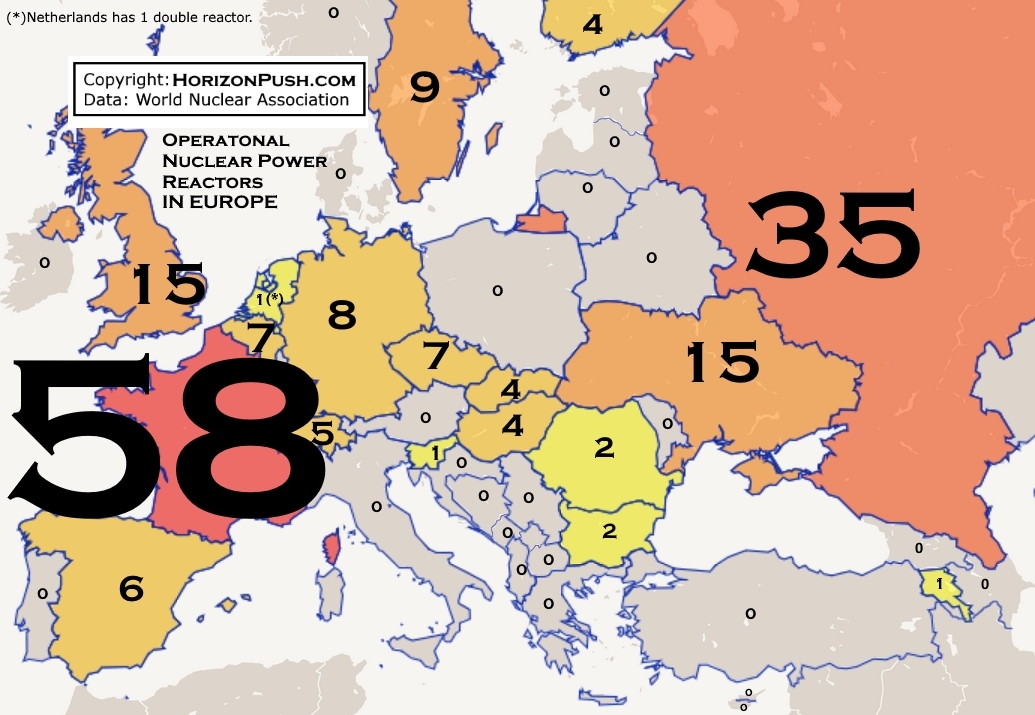 Go deeper:
World Nuclear Association Information Library